Farmhouse style isn't going anywhere any time soon, and we aren't complaining. Rustic home décor, the bread and butter of farmhouse design, hit the design world and hasn't stopped. Reclaimed wood, barn motifs, and simple yet sophisticated touches combine for a light and relaxed feel.


For your style inspiration, we've brought you several of our favorite snapshots from the beautiful farmhouses we tour. Get ready for a farmhouse style overload.



This kitchen wrapped in light wood gives an airy and soft feel while still bringing a familiar comfort. That rustic wooden range hood is one of the many farmhouse style highlights this kitchen offers.

Deep crown moldings and fluted corners on the cabinetry give an upscale look to this farmhouse-style kitchen. The electric-candle chandelier adds an old-world rustic touch.


Country music star Terri Clark's Nashville cottage says reclaimed style goals everywhere you look. These kitchen island leg stands are actually salvaged logs from an old building. See our post on the rest of her cottage
here
.

SHOP THE LOOK:


Hanging Chalkboard Pantry Door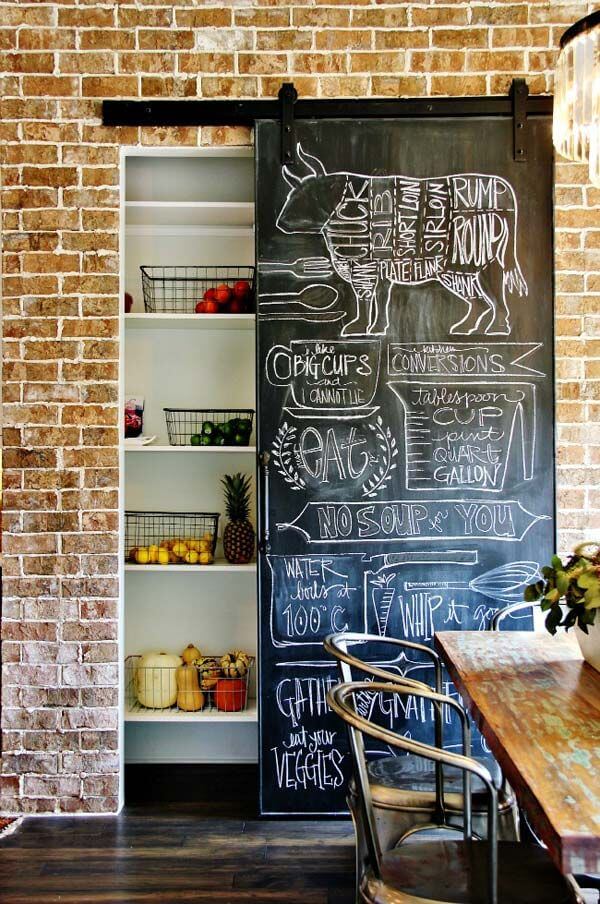 Hide away an unsightly pantry with a chalkboard barn door. You can slip in and out of your pantry quickly and customize the barn door into a work of art for your guests to talk about over dinner.



Farmer's Market Crate Produce Storage Drawers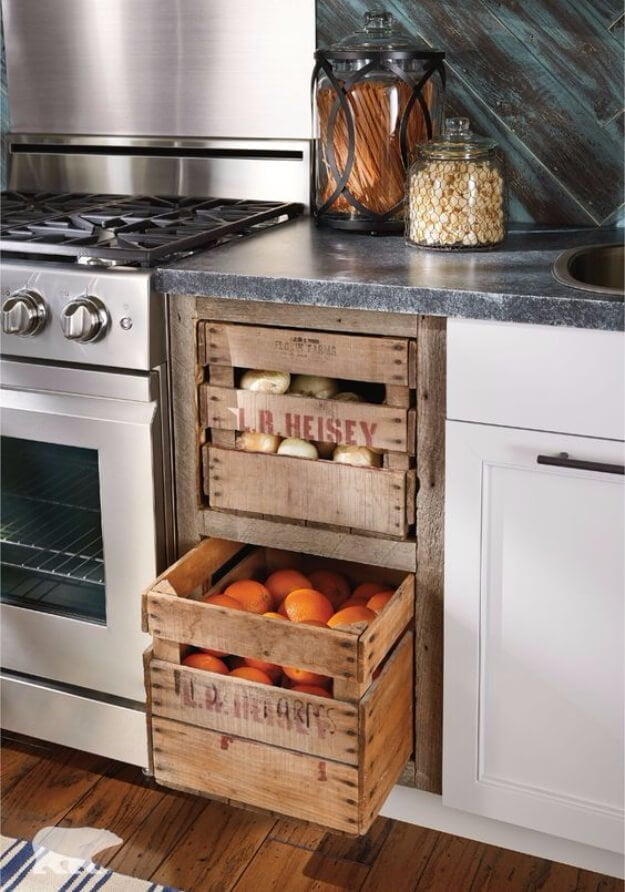 With a little craftsmanship and creative maneuvering, you can turn old fruit crates that you pick up at your local flea market into the perfect storage bin for bulk items that have a longer lifetime, such as potatoes and onions.



Country Blue and White Linen Cabinet Curtains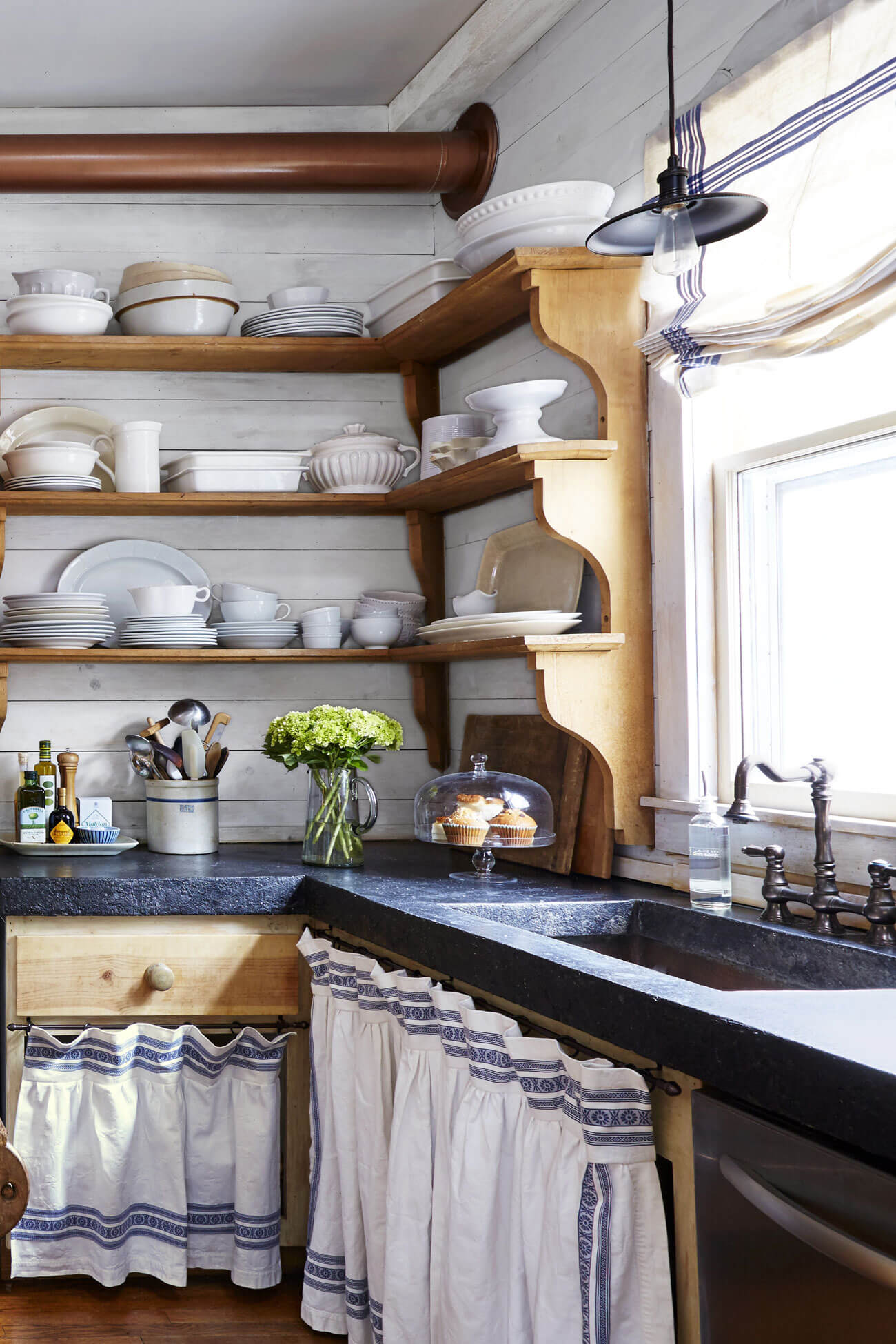 When storage in the kitchen is an issue — and you don't have the luxury of a pantry — think up and down. Instead of cabinets, add open shelves for easy retrieval of glasses and plates. Add a cute, country skirt across your lower cabinets to hide less-than-functional cabinets and to add a little whimsy to your kitchen.



Porcelain Farmhouse Sink in Vintage Cabinet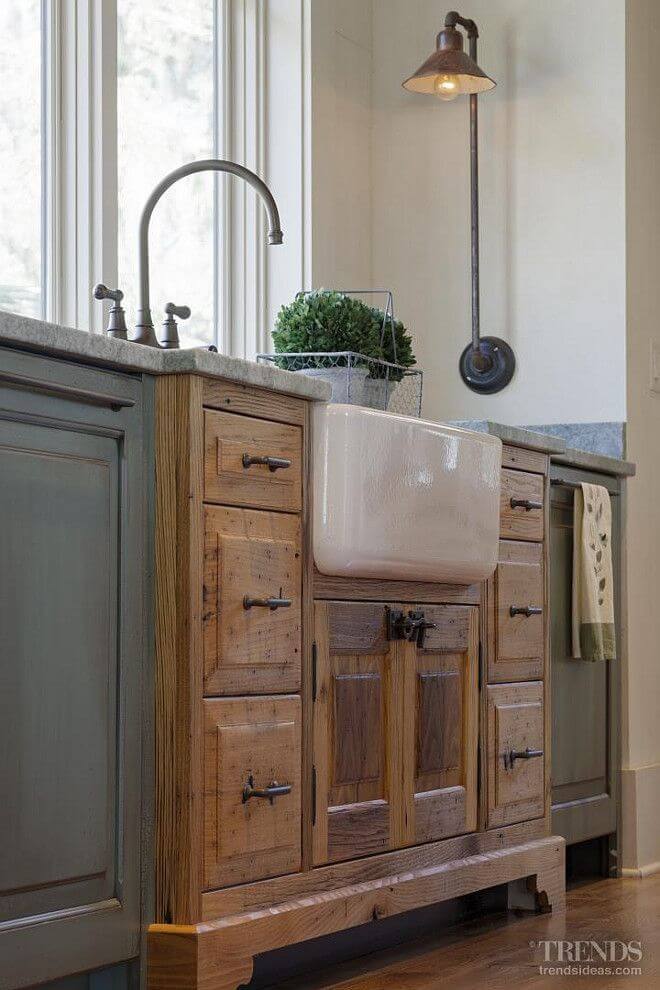 Who says all of your cabinets need to look the same in your kitchen? Add a unique look to your kitchen by installing an Old World or French Country wood sink stand with a stunner of a sink — a deep Farmhouse-style one.


Cozy Country White Coffee Nook

Your morning brew is literally a few minutes away with all of your coffee items an arm's stretch away with this adorable coffee bar made from an entry-way table and a cubbyhole-shelf. Store items on the tabletop and in the drawers. Perfect for guests, too!

SHOP THE LOOK:



SHOP THE LOOK:



SHOP THE LOOK:



SHOP THE LOOK: